Curtis Nether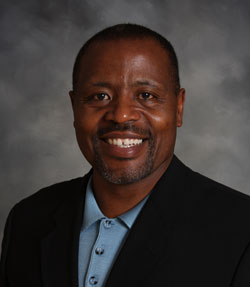 I am the youngest of three children born to Joseph and Ruthie B. Nether. My parents are originally from Buena Vista, Georgia (located approximately twenty miles outside Columbus). They moved to Youngstown, Ohio, in 1950. What I remember most about my early childhood was my love of sports and an obsession with reading Presidential biographies. In my neighborhood, we played all the time. Neighborhood track meets, baseball tournaments and football games took place almost daily, especially during the summer. I played organized football from the time I was nine until I graduated from college.
I made a decision to teach in my high school junior year. This decision evolved after meeting Al Bogan. Mr. Bogan was my football and track coach and more importantly, my history teacher. Coach Bogan was the first to help me realize that if I focused on my grades, even an urban kid from Youngstown could secure a teaching degree.
After receiving my BS degree in 1976 from Emporia State University, I accepted a position at Lawrence Kansas High School to teach American and black history. I also coached football, wrestling, and track. At the time of my arrival, I could feel the spirit of the active, no-nonsense, and extremely spiritual Lawrence African American community. During my first year teaching and while conducting oral interviews, I was told of the riots that took place to secure civil rights, as well as, the young African American Rick Dowdell, who was killed during those riots. I also learned of the struggle of the African American community to increase the number of African American teachers in the Lawrence school system. I was a proud recipient of that effort.
As a first-year history teacher at Lawrence High School, I was honored to have the opportunity to conduct research that would tell the story of Lawrence/Douglas County African American residents. As an American history and Black history teacher, I realized that there were differences between African Americans who migrated to the industrialized North between 1900-1960 and those who migrated west in the Reconstruction period (1870-1900).
 The exodus out of the South to Kansas began in 1870 and culminated in population growth from 364,000 in 1870 to 1,428,000 in 1890. African Americans came in droves to Kansas, the land of John Brown (an American abolitionist who advocated and practiced armed insurrection as a means to abolish all slavery). Why did African Americans migrate west? Many stated that in the South they had no security for life, limb, or property; they worked year in and year out, cultivating good crops, but at the end of the year they still were in debt. Some of these individuals were inspired by the spiritual rhetoric of Benjamin "Pap" Singleton (a leader in the "Great Exodus" who brought thousands of African Americans west from the post-Reconstruction South). They believed that the caste systems established by many Southerners at the end of Reconstruction would not allow former slaves to pursue the American Dream. Many of the twenty-three interviews that I conducted in 1977 were with descendents of these western migrations.
I was fascinated with the history of western migration because I was a product of the great migration to the North. Between the years 1900 and 1960, more than 4,809,000 African Americans fled the South"s oppressive conditions. The vast majority of these migrants settled in northern cities such as Chicago, Cleveland, Detroit, Pittsburgh, and New York. The war years witnessed the greatest influx of southern blacks; the loss of labor due to military enlistment provided greater economic opportunities in northern-based industries. I was born and raised in Youngstown, Ohio, approximately 60 miles southeast of Cleveland. My father, as well as other neighborhood fathers, migrated to Youngstown from Georgia primarily to work in the steel industry. Many students whom I attended school with had parents who migrated from the South. Lawrence was different. Many elderly African American residents, as well as their parents, were born in Kansas.
Although thirty years have past since 1977, what I remember most from the people I interviewed was their hospitality, pride, rebellious spirit, and their focus on the necessity of all people to pursue higher education.
Conducting these interviews changed my life. Since then I have helped African Americans understand that many have struggled and endured only to provide a better life for those who came after them. I learned that as African Americans we must continue to strive for achievement. Our ancestors relied on education as a tool to improve not just their lives but the lives of all mankind. Our heritage does not allow us to be complacent, nor does it allow us to dwell on the past or carry grudges due to past inequities.
After leaving Kansas in 1979, I moved to Denver, Colorado, where I worked for Aetna Life and Casualty Company and Coors Brewing Company. Currently, I am concluding my ninth year with Starbucks Coffee Company as a national account executive for the gaming segment. I earned my MBA degree in 2005 and reside in Las Vegas, NV. I have been blessed with two children, Cara and Kendall. Cara received her BA from the University of Kansas and ME from the University of Nevada, Las Vegas. Kendall is an elementary school student.