This website makes available online a rich collection of oral history interviews with African Americans in Lawrence and Douglas County, Kansas. Twenty-three of these interviews were gathered in 1977, at the suggestion of Robert B. Jones Jr., an elderly black resident of Lawrence and with the support of Douglas County District Judge Mike Elwell. The interviews were conducted by Curtis Nether, a Lawrence High School history teacher, and recorded and transcribed by court reporter Linda Poindexter. The Kansas Humanities Council provided funding support for the transcription and editing of these interviews.
Additional interviews were funded by the Lawrence Sesquicentennial Commission and were conducted and recorded, and transcribed in 2003-04 by members of the Lawrence-Douglas County African American Oral History Project (LDCAAOHP) under the leadership of Alice Fowler as part of the Lawrence Sesquicentennial Celebration. Exhibit panels of interview excerpts and photos were featured in that celebration.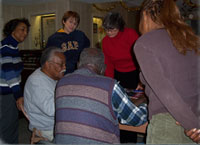 (Right to left) Reta Cosby, Mr. Washington, Mr. Monroe, Barbara Jordan, Nancy Hiebert, and Sherrie Tucker look at Mr. Washington's album.
The third group of ten interviews, created for the Lawrence St Luke AME Church centennial and restoration in partnership with the Second Century Fund (a unit of the Lawrence Preservation Alliance) and the Lawrence Public Library, was funded by the Kansas Humanities Council and was also conducted by members of the Lawrence-Douglas County African American Oral History Project, under the leadership of Leonard Monroe.
Another grant (2005) from Capitol Federal Foundation supported the interviews and panel preparation of an all-black Lawrence basketball team, the Promoters. The LDCAAOHP group, which has done all of these interviews, includes several Lawrence residents and KU faculty and staff members. One of the LDCAAOHP members is Marla Jackson. Her work is becoming nationaly and internationally famous and complements the oral histories featured here.